Son's roof fall death 'could have been avoided'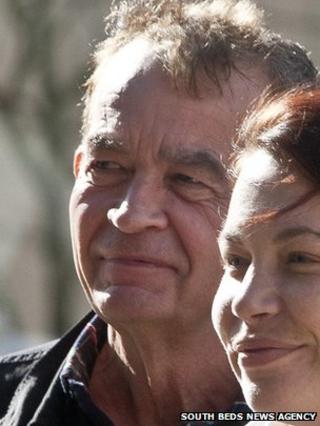 The death of a man who fell through a roof while working for his father could have been avoided, a court has heard.
Tony Broadbent, 61, of High Street, Harrold in Milton Keynes has denied the manslaughter of his son Kyle Broadbent, 25, who died in August 2012.
The pair were replacing skylight windows on a roof at a warehouse in Newport Pagnell, when Kyle fell.
Prosecutor Iain Wicks told Luton Crown Court Mr Broadbent "showed a total disregard for health and safety".
Football fan Kyle was working for his father, who owns Broadbent Roofing, to pay back a loan for a Chelsea season ticket, the court heard.
Mr Wicks said he helped out from time to time but was not a trained roofer.
'Flashbacks'
He described how on 18 August 2012, Mr Broadbent saw his son walking towards him on the roof and realising what was about to happen, called to him to stop.
"He had stepped onto one of the brittle skylights they were replacing, and attempted to grab some metal to save himself but fell to the floor beneath," he said.
He fell about 7m (22ft) and died from multiple injuries.
Mr Wicks said Mr. Broadbent had been "grossly negligent".
Safety nets could have been used under the roof space, a safety harness could have been worn and barriers put around the skylights, the jury was told.
"This is undoubtedly a tragedy for him, but the uncomfortable truth is it should have been avoided," Mr Wicks said.
The court heard Mr Broadbent still suffered flashbacks from that day but had considered the potential risks.
"I can't see what else I could have done...I'd thought about things but I didn't think I had to take other measures," he said.
Mr Broadbent told the jury he had undertaken similar jobs and had never seen netting used under the roofs.
He has also pleaded not guilty to failing to discharge his duty as an employer.
The case continues.