Simon Thompson's sentence for killing daughter Rebecca is reduced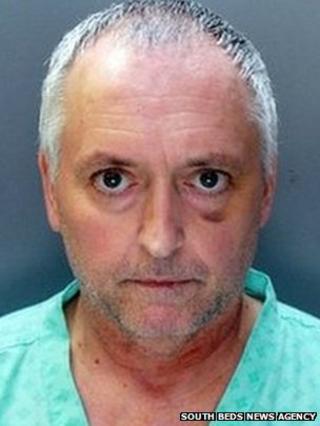 A man who killed his 11-year-old daughter before trying to take his own life has had his jail term cut by three years at the Appeal Court in London.
Simon Thompson, 53, from Bushey in Hertfordshire, strangled Rebecca Thompson in her sleep and then drove his car into a roundabout in June 2013.
He was jailed for 20 years after admitting manslaughter on the grounds of diminished responsibility.
The court said the term did not take enough account of medical evidence.
Three judges reduced the sentence to 17 years.
Judge Michael Pert QC said: "In our view, a sentence of 20 years does not give appropriate weight to the circumstances in this case."
In January, St Albans Crown Court heard Thompson killed his daughter after his wife had ordered him out of their home.
He had said he was "distraught" at the prospect of living apart from his daughter and Rebecca was also distressed.
Psychiatrists had concluded Thompson had Asperger's syndrome, coupled with an "abnormal personality" with schizoid and obsessive-compulsive features and he also had depression.
They said he believed he had no other option than to kill Rebecca in order to free her from the distress she was in and his responsibility for the killing was diminished by his mental state.
Sentencing him, Judge Stephen Gullick said Thompson had committed "a deliberate and considered act".
Challenging the sentence, Bernard Richmond QC argued the judge's comments indicated he had not taken enough account of expert medical opinion.
Allowing the appeal, Judge Pert said psychiatric evidence showed Thompson was making decisions but they were not rational ones.
Sitting with Lord Justice Treacy and Mr Justice Turner, he said: "We are very aware of the difficulties facing the judge and we do not interfere lightly with the decision he made."