Man cleared of herbicide death of bodybuilder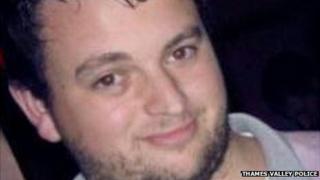 A man accused of killing a bodybuilder who drank herbicide at a gym in High Wycombe has been found not guilty of manslaughter.
Sean Cleathero, 28, died in 2012 after drinking the herbicide, dinitrophenol.
A jury at the Old Bailey cleared Jamie Chivers, 44, of Spring Gardens Road, High Wycombe, of manslaughter on Monday.
Chivers had already admitted perverting the course of justice and supplying anabolic steroids, a class C drug.
Mr Cleathero, from High Wycombe, died in hospital on 16 October, hours after drinking the liquid.
Dinitrophenol (DNP) is not a controlled drug because it is used as an insecticide or herbicide, but is unfit for human consumption.
Sentencing will be carried out at a later date.
Two other men had already been cleared of manslaughter.