Henry Huggins family collect selfies for 'when he wakes'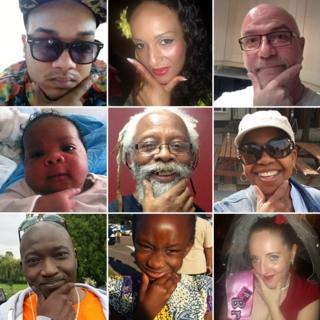 The family of a man who has been in a coma for more than a year have collected about 1,000 selfies to make a "collage of love" for "when he wakes".
Henry Huggins, 48, from Luton has been unconscious since being attacked on 8 August 2013.
His niece Corene Campbell said the pictures from a Facebook campaign will "let him know people are still thinking about him".
Two men convicted of assault charges are awaiting sentence.
Mr Huggins, also known as Chin, struck his head on a concrete path after being punched to the ground by James Early, 40, outside a block of flats on Whipperley Ring in Luton.
As he lay unconscious, Stuart Docherty, 40, stamped on his head and robbed him.
The attack left him in a "persistent vegetative state" and medical experts say he will never regain consciousness.
'Awesome' response
This summer, wellwishers were asked to take a selfie with their fingers in a V sign on their chin to keep his name in the public arena.
The family received about 1,000 pictures which will be used to decorate Mr Huggins' nursing home room.
Ms Campbell, 35, a member of singing trio Voices with Soul, said the family were praying he recovers.
"When he wakes up, he will know that people are still thinking about him," she said.
"[He will] see all these wonderful pictures of everyone saying we are here for you and we love you."
She said she is sure her uncle can hear when she and her mother and aunt sing gospel songs around his bed.
"A tear comes from his eye, his mouth moves up and down, it's like he can hear but can't speak," she said.
"He's still got a life, there is something there even though he is not responding."
Early was found guilty of actual bodily harm after a trial at Luton Crown Court and Docherty earlier pleaded guilty to causing grievous bodily harm.
They will be sentenced in November.