Ebola fear causes gas mask sales surge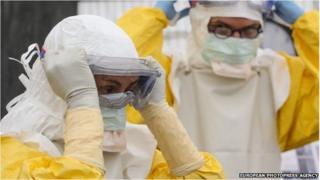 Fears over Ebola have led to increased demand for protective suits and gas masks, according to the owner of a firm that sells survivalist equipment.
Lincoln Miles, from Eynesbury in Cambridgeshire, said he sold about 50 "Ebola kits" last week from his business in Roxton, Bedfordshire.
He says he normally has orders for about five a week.
But a Cambridge University virologist said such equipment in untrained hands was unlikely to be reliable.
Mr Miles said: "We're selling out of NBC (nuclear, biological, chemical) suits and gas masks which both work together to protect against Ebola and other viruses.
"We went from about five a week to about 50 or 60 a week. Before they're on the shelf, they're out the door."
Most of the kits were being ordered by people in the UK, Mr Miles said.
His anti-Ebola stock includes biohazard protection suits for around £13 and gas masks at about £20.
"Preppers" - people preparing themselves to survive in a variety of emergency situations - can also buy hermetically-sealed emergency ration packs and NBC socks, at 99p per pair.
"I am surprised by the number of people interested in getting themselves prepared," Mr Miles said.
"I think it's important to keep it in perspective and at the moment there haven't been any cases in the UK, but it's worthwhile being prepared," he added.
However, Mr Miles and his survivalist customers are not the only ones concerned about the virus.
Last week a father worried about Ebola arriving in the UK took his teenage daughter out of a Bedfordshire school because it would not let her wear a facemask.
Virologist Dr Chris Smith, based at Addenbrooke's Hospital in Cambridge, said: "Medical staff in Spain and the US who've caught Ebola had this equipment, and they also had extensive training in infection control - yet they still became infected.
"I would not judge [this equipment] to be reliable in the hands of untrained individuals."
A Public Health England spokesman said: "We would like to reassure people that the risk of Ebola in the UK remains low, and we have no known confirmed cases of Ebola in this country.
"We have a world-class domestic health system that is ready to respond if we do see a case in the UK."