St Albans Hospital 'failures' led to terminal breast cancer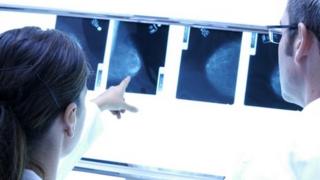 A 41-year-old woman is dying from cancer because a hospital failed to diagnose and treat her early enough, the health ombudsman has said.
The breast clinic at St Albans Hospital in Hertfordshire did not do appropriate tests to rule out cancer in the patient in 2010.
The woman, known only as Ms G, has since been told she has terminal breast cancer.
West Hertfordshire Hospitals NHS Trust said it had "clearly failed".
It has already paid her the £70,000 compensation recommended by the ombudsman.
Ms G was referred to the breast care unit in St Albans and at her follow-up appointment in May 2010 the specialist did not do the appropriate tests and failed to detect her cancer.
In December 2011 biopsies revealed she had advanced inoperable breast cancer and secondary cancers of the liver, brain and bone.
'Serious failings'
The Parliamentary and Health Service Ombudsman's report said the single mother of one was "let down" by the hospital and her life would probably have been saved had she been treated earlier.
Ombudsman Julie Mellor said Ms G's life had been cut short by the trust's "serious failings" and it had "missed vital opportunities" for diagnosis.
"This is a very sad example of what can go wrong when doctors and trusts don't carry out the necessary and proper diagnoses and tests, and the terrible impact it can have on someone's life," she said.
The report called for the trust to make a "full and sincere apology" and put processes in place to ensure it cannot happen again.
Trust chief executive Samantha Jones said: "We clearly failed Ms G and I have offered her my personal and sincerest apologies."
Ms Jones said it had already made "necessary changes" including the provision of "enhanced training for doctors".
Its major review of cancer services also includes a new system to track patient care and weekly meetings to review the management of referrals and appointments.