Dr Tina Beloveth Powerful college fraud case adjourned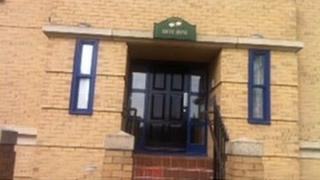 The case against a woman alleged to be offering courses her college did not have the power to offer has been adjourned after she failed to attend court for a second time.
The Reverend Dr Tina Beloveth Powerful, from Milton Keynes, is charged with offering degrees that were not properly accredited.
She told Milton Keynes magistrates on Friday she had a hospital appointment.
Dr Beloveth Powerful must provide proof at the next hearing, the court ruled.
The cases against both the businesswoman and her college, the Everest School of Transformational Leadership, was brought by Milton Keynes Trading Standards.
She is also accused of posting misleading statements on her website.
Having failed to attend court last week, Dr Beloveth Powerful wrote to magistrates to say she could not make Friday's court hearing as she had to attend an appointment with Northampton Care.
She must now provide proof of her illness at a hearing in three weeks time.