Luton gun victim Paul Foster: Father tormented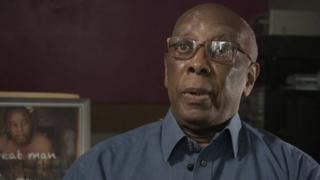 The father of a community worker shot dead on a Bedfordshire street says he is tortured because no-one has been brought to justice for the killing.
Father-of-three Paul Foster, 46, was shot in the chest on the Lewsey Farm estate in Luton on 9 April 2013.
Police have made 184 arrests related to drug-related gun crime but have failed to find Mr Foster's killer.
His father Neville said he needs tablets to sleep as thoughts of the killer walking free keep him awake.
Bedfordshire Police admitted gun crime was spiralling out of control 18 months ago with 27 separate shootings in a year related to drugs and feuding gangs.
Their response was "high impact patrols by uniformed officers" to bring back confidence, Det Supt David Cestaro said.
'No snitching' culture
Dozens of weapons were seized in raids on more than 100 homes and 19 people were charged with firearms offences and 35 with other crimes.
But the force also admits its failure to find Mr Foster's killer.
Neville Foster said: "It's really hard day-by-day, night-by-night. I cannot sleep. I take sleeping tablets but when I wake up I have this hanging over me.
"Out there my son's killer is still walking the streets."
Earlier this year, Mr Foster's widow Mandy appealed for information to identify his killer.
She said: "Individuals have deliberately chosen to hinder police."
A £10,000 reward for information that leads to convictions has been offered and Mrs Foster added: "I am more than aware of the community that we are living in and the 'no snitching' culture, especially among our young black men."
Mr Foster, known as Big Shyne, died at Luton and Dunstable Hospital and about 500 mourners attended his funeral.