ZSL Whipsnade Zoo: Man seriously injured by rhino in 'stable condition'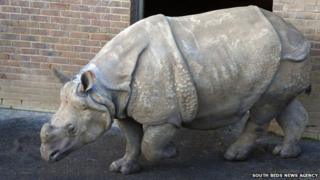 A senior zookeeper seriously injured by a rhino in Bedfordshire is in a "stable condition" in hospital.
The man, in his 50s, was found by colleagues in water at ZSL Whipsnade Zoo, near Dunstable, with injuries to the chest, abdomen and pelvis.
He was taken to Addenbrooke's Hospital in Cambridge on Wednesday morning in a "serious" condition but is now stable, a zoo spokeswoman said.
Five Asian rhinos live in the enclosure, the zoo has said.
The spokeswoman said the keeper was found injured in the Asian rhino enclosure at about 08:15 GMT by colleagues.
Paramedics gave him enhanced pain relief at the scene and took measures to keep him warm as his body temperature had dropped considerably after being immersed in water.
The Zoological Society of London (ZSL), the Health and Safety Executive and Central Bedfordshire Council are all investigating.
A council spokesman said officers had been working with staff at the zoo to ensure safety procedures were in place and that the zoo is safe to open to the public and staff.
"We will be looking into all the details to find out exactly what happened," he said.