Great Offley bus fire: Driver evacuates passengers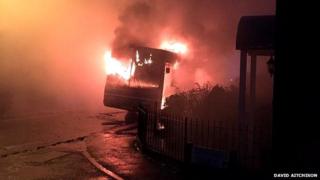 A single-decker bus carrying about 50 passengers, including some school children, has been destroyed by fire.
The blaze broke out in the rear engine compartment, as the Arriva 102 bus drove down Luton Road, Great Offley, Hertfordshire, at about 16:30 GMT.
All the passengers were evacuated safely by the driver and no-one was hurt, a fire service spokeswoman said.
The bus was travelling between Stevenage and Luton via the Lister Hospital. Two crews attended the scene.
Eyewitness David Aitchison tweeted: "Seriously full bus, driver looked quite shaken up. Everyone OK, friends windows blew in their house.
"It's unbelievable just how quick this went from rear to front in 10 mins."
Firefighters took about half an hour to put out the fire. It is not being treated as suspicious.
Arriva spokeswoman Linsey Frostick: "We don't have any idea of the cause, but the damage is quite severe.
"The fire was towards the rear of the bus, which is where the engine, is so it didn't take long to catch hold.
"The driver's calm now. He reacted well and stepped up when he needed to."
The bus has been taken to Arriva's Stevenage depot and an investigation into the cause of the fire has begun.