The Bletchley Park codebreaker who 'helped sink' Bismarck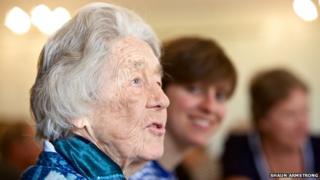 A 92-year-old woman who translated decoded German messages at Bletchley Park has told how she discovered the route of the Bismarck warship.
Jane Fawcett's World War Two testimony is one of more than 100 revealed since the museum called for veterans to come forward last year.
It set up an online "roll of honour" to name each employee, whose identities were once closely-guarded secrets.
The project leader said "added detail" in oral histories was "very important".
Workers at the Government Code and Cypher School in Buckinghamshire used the Bombe machine to break codes generated by the Enigma machine, which was used by the German navy, air force and army to send encrypted messages.
Michael Smith's book Station X documented how codebreakers deciphered a message from General Hans Jeschonnek who was concerned over the fate of a relative who was on the Bismarck - the German navy's flagship.
He was told the ship was making for the safety of Brest.
It was subsequently destroyed by Allies on 27 May 1941 with the loss of 2,090 men.
Ms Fawcett, who now lives in London, was 18 when she started work on Enigma translations in Hut 6 and decided their priority.
"I spoke German so I had [to decide] whether [a message] was so important it had to go straight to Whitehall or whether it was going to be something very minor," she said.
"I suddenly got a thing on my plate from the Enigma machine which said Brest.
"I just thought that might be very important so I read it right through. That was how we found out about it.
"We all thought she was going back into the [Norwegian] fjords but what she was actually doing was streaking away into Brest so we got her.
"The whole thing was turned round and off they went in pursuit and sunk her."
Archive officer Jonathan Byrne said Ms Fawcett's detail about the incident reminded us how "ordinary people were involved in such an amazing thing".
Mr Byrne said his team had interviewed 108 people this year, compared to 98 in total during the previous two years, including two people over 100-years-old.