Man taken to hospital after stabbing brawl in Luton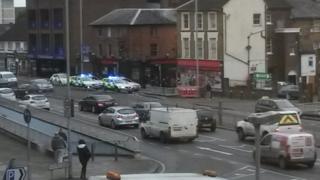 A man has been taken to hospital after a stab wound after a fight involving two groups of males on a Luton street.
Four teenagers have been arrested following the fight, which started outside Lloyds bank in George Street before moving into Wellington Street.
Police were called at 12:15 GMT. Lower Wellington Street was then closed as a crime scene.
Some of those involved were armed with knives and used their belts as weapons, a police spokesman said.
The victim was taken to hospital in a squad car and Bedfordshire Police said he had serious, but not life-threatening, injuries. His condition is described as stable.
Two 17-year-old boys and two men, aged 18 and 19, were arrested on suspicion of affray.
Det Insp Sean Quinn said: "This is being treated as an isolated incident between two groups of people.
Officers would be "trawling through CCTV to identify anyone who was involved", he said.