'Astronaut' joins rail commuters at St Albans City station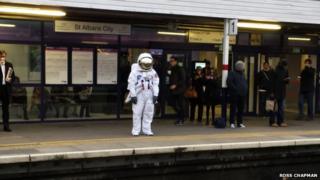 Station staff were left "befuddled" when an "astronaut" materialised on a railway platform during rush hour.
The mystery passenger wore a helmet and NASA branded white suit as they waited to board a train at St Albans City Station at 08:45 GMT on Thursday.
Commuter Ross Chapman said staff looked "confused" by the occurrence.
"The platform attendant called into his radio 'could someone tell me why there's an astronaut on platform one?'," he said.
Mr Chapman said commuters had been "huddling" in the lobby of the station to keep warm.
"As I stared up to the departures board to determine my platform, I sensed a large, slow moving force behind me," he said.
"The astronaut appeared from the cold and proceeded to the ticket gate.
"The gate attendant approached speechlessly and asked, curiously, 'may I see your face, please?'
"The astronaut did not oblige but provided his ticket and bounced through to platform one.
"The gate attendant remained speechless and completely befuddled."
The astronaut is believed to have taken off on a train and according to passenger Lara Colvill landed at City Thameslink less than an hour later.
Mr Chapman said: "Didn't anyone tell him there's no space on Govia Thameslink trains?"
A spokesman for Govia Thameslink Railway said: "This has to be one of most unusual passengers to travel the Thameslink route," he said.
Twenty-four hours later the mystery spaceman revealed himself to be the manager of a PR company.