Great Offley Arriva bus fire investigation inconclusive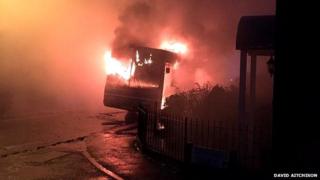 An investigation into a fire that destroyed a bus carrying about 50 passengers has failed to find a cause.
The blaze broke out in the rear engine compartment as the single-decker Arriva bus drove along Luton Road, Great Offley, Hertfordshire, on 21 November.
The driver evacuated the vehicle before the fire took hold and nobody was injured.
The blaze is not being treated as suspicious.
The bus was travelling between Stevenage and Luton via the Lister Hospital. Firefighters took about half an hour to put out the fire.
An Arriva spokeswoman said: "We have carried out an investigation following the fire on one of our vehicles.
"The exact cause has not been able to be established as the fire damage to the vehicle was extensive and destroyed the rear of the bus.
"No one was injured as the driver made sure all passengers were off before the fire took hold."