Fire Brigades Union threatens action over Bucks sacking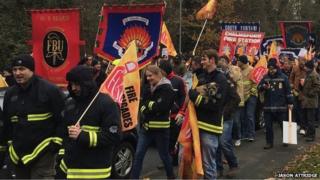 The Fire Brigades Union is threatening legal action over the sacking of one of its activists in Buckinghamshire.
Hundreds of firefighters from around the country marched in Aylesbury on Tuesday in support of Ricky Matthews.
The union is to challenge his dismissal from the county's fire service for allegedly striking when action had been called off.
The fire service said a man had been dismissed for "unofficial" action but that the courts would decide the issue.
An administrative error meant a strike notice was not valid, making action "illegal", but Mr Matthews came out.
Matt Wrack, general secretary of the Fire Brigades Union (FBU), said the union would take a "watertight" case for unfair dismissal to court to have Mr Matthews restored to his job.
The union is in dispute with the coalition government over changes to its members' pensions.
Mr Wrack said: "Firefighters are asking the Westminster government to immediately open genuine negotiations to resolve this dispute."
'Challenge the bullies'
Buckinghamshire and Milton Keynes chief fire officer Mark Jones said one firefighter failed to turn up for work when a strike on 31 October was called off and was dismissed.
He also challenged the reasons for the demonstration in Aylesbury.
"The real purpose of such demonstrations is to try to put pressure on local members of the FBU, which we see as a form of bullying," he said.
"As the managers of this organisation, we defend people who are being bullied and challenge the bullies."
He said the service would deal with the matter through the courts.
"No amount of abuse, lobbying or demonstrating by the FBU can alter such proceedings," he said.