Lights off road deaths: Milton Keynes Council concerns voiced earlier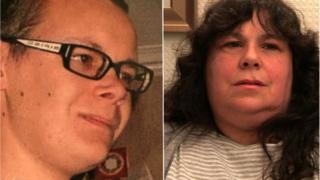 More than half of councils which have turned off street lights at night to save money did not carry out formal risk audits beforehand, it has emerged.
Forty-eight councils in England currently, or have previously, turned off street lights at night.
Milton Keynes Council turned its lights back on after a coroner linked two road deaths to darkness at night.
The BBC has established senior figures at the council voiced concerns about safety before those deaths.
The local authority confirmed that no safety audit had been carried out on its policy out before the fatalities.
According to a Freedom of Information (FOI) request by the BBC, of the 161 local authorities with street lighting responsibility in England:
Forty-five have, or have in the past, adopted part-night lighting - when street lamps turn off for a large portion of the night
Three other councils have switched off some of their lights at night completely
More than half did not carry out a formal risk assessment before switching off lights
Sherwin Sequeira died on the roads in Milton Keynes while the lights were off in October 2011. One month later, pedestrian Gary Tomkins, a 25-year-old caterer, was killed by a car.
The BBC has now established concerns were raised at a senior level within the council three months before the first death.
---
Street light switch-off data
The BBC asked councils whether, in the past five years, they had either switched off streetlights for set periods at night (part-night lighting), dimmed their lights or simply turned off some permanently.
The maps below reveal that more than half of all councils in England now dim lights, with nearly 50 turning off streetlights at night.
A few have chosen to completely turn off streetlights. The data also suggests most local authorities are replacing streetlights with LED bulbs.
In the same period, six coroners across England have identified the lack of street lighting as a contributing factor to a death.
Graphics produced by Ed Lowther
---
John Bint, who was portfolio holder for transport at the time, called for a "full and proper safety audit" to be carried out amid "serious concerns" about the policy.
That audit, the council accepts, was never carried out. And even after the deaths of Mr Sequeira and Mr Tomkins, the switch off was not reversed until July 2012.
When the BBC presented its findings to Mr Tomkins' mother Julie Pascoe, she said: "It is unbelievable isn't it?
"I just don't know what to believe with the council any more.
"They knew there were going to be dangers on these roads with the lights turned off but they still went ahead and did it.
"It's cost my son's life, just for a few pounds."
Peter Marland, current leader of Milton Keynes Council, said he could not comment on the decisions made at the time as the authority was under a different administration.
He did say "the matter of what procedures were followed at the time" was "obviously of great interest to me".
The BBC's research also shows at least 20 councils cited a 2007 trial in Essex to suggest part-night lighting had no impact on road safety.
More recent figures compiled by Essex County Council for an Essex Police and Crime Panel briefing paper, however, suggests that in six out of eight towns where the lights were switched off, night-time accidents had increased during comparison periods in 2012-2013 and 2013-2014.
The council dismissed these figures, claiming the numbers were skewed by adverse weather in 2012-2013 which meant fewer people were using the roads that winter.
"Currently there is no statistically significant data available on collisions and crime caused by part-night lighting," a council spokesman said.
But campaigners in Essex claim the county council's lighting policy has put people at increased risk of harm when the lights go out.
One of the cases they cite is David Charles, who died in November 2014 in Basildon after a collision in a street where the lights had been turned off.
Essex County Council declined to comment on whether the lack of lighting might have played a role in Mr Charles' death, but the police say it is an aspect of its investigation.
Nick Alston, the Police and Crime Commissioner for Essex, said although he appreciated there were people who both supported and opposed part-night lighting, he wanted to see full and comprehensive data on its safety impact.
Inside Out will be broadcast on BBC One in the east of England at 19:30 GMT and available on iPlayer afterwards.