Sir Elton John has stand named after him at Watford football club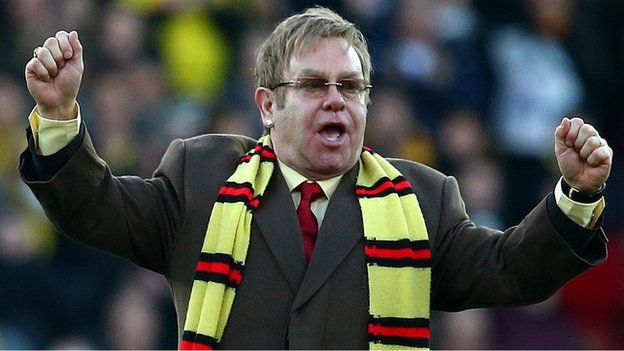 Sir Elton John has opened a new stand at Watford football club named in his honour, describing it as "one of the greatest days of my life".
Sir Elton, a former chairman and owner, addressed the crowd from the centre circle on Saturday afternoon before the match against Wigan at Vicarage Road.
The club's honorary life-president was there with his partner David Furnish and sons Zachary and Elijah.
"Watford Football Club is forever in my heart," he told applauding fans.
Sir Elton, who took over as chairman in 1976, said he first stood on the terraces at the club at the age of six.
He said: "I never thought I'd ever have a stand named after me. I never thought I'd sit in a stand!"
Sir Elton added: "It's in the top 25 clubs in England and we should be very proud of that...
"To the people at the club, including those in the background, the home supporters and away supporters, the owner, the chairman and the board of directors; you have treated me with so much love.
"Let's continue to have success. Let's get to the Premiership. Thank you very, very much - this is one of the greatest days of my life."
Watford won Saturday's game 2-1.
Elton John and Graham Taylor years
A year after becoming chairman of his hometown football club in 1976, Elton John appointed Graham Taylor as manager.
The pair, helped by the pop star's finance and Taylor's management skills, took the club from the fourth division to the top flight in the years up to 1987.
In this first phase of their joint stewardship the club were runners-up in the league top flight to Bob Paisley's Liverpool.
Graham Taylor went on to become manager of England and returned to the floundering club in 1996.
Again he worked with Sir Elton and the club returned to the Premiership. He left in 2001 but came back again in 2009 as chairman.
Taylor also has a stand named after him at the Vicarage Road club.
Related Internet Links
The BBC is not responsible for the content of external sites.