Stevenage cell therapy centre to create 150 jobs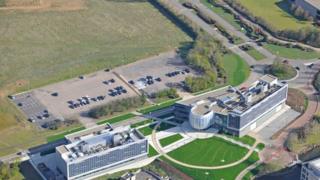 A new £55m cell therapy manufacturing centre in Stevenage is set to create up to 150 jobs, it has been announced.
The firm Cell Therapy Catapult (CTC) is planning to build the centre on the Stevenage Bioscience campus.
Business Secretary Vince Cable welcomed the news.
"This therapy is at the very cutting edge of medical research, and is using our own cells in the fight against life-threatening diseases including cancer," he said.
'Unmet medical needs'
Cell therapy involves introducing cells into the body that will grow and replace damaged tissue.
Keith Thompson, chief executive of CTC, said: "This facility will complement the existing UK capability, enabling companies to operate at the scale needed... and we look forward to working with global scientific and medical communities to assist in their research into products that have the potential to address many unmet medical needs."
Mr Cable added: "This state-of-the-art facility in Stevenage will ensure Britain can be a real leader in this industry.
"Supporting British scientists is crucial for our long-term economic growth and that is why we are publishing a science and innovation strategy this week - a blueprint for building our future innovation infrastructure."