Whipsnade Zoo: Injured Rhino keeper still in hospital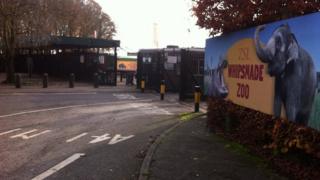 A senior zookeeper is still in hospital more than a month after he was seriously injured by a rhino in Bedfordshire.
The man, in his 50s, was found by colleagues in water at ZSL Whipsnade Zoo, near Dunstable on 19 November, with injuries to the chest, abdomen and pelvis.
He was taken to Addenbrooke's Hospital in Cambridge in a "serious" condition.
A zoo spokeswoman said he was "still receiving care and is stable".
The keeper was found in the Asian rhino enclosure where paramedics kept him warm after his body temperature had dropped considerably from being immersed in water.
The Zoological Society of London (ZSL) and Central Bedfordshire Council are both investigating.
Asian rhinos
Species include the greater one-horned rhino (Rhinoceros unicornis), Javan rhino (R. sondaicus) and Sumatran rhino (Dicerorhinus sumatrensis)
Whipsnade Zoo has greater one-horned rhinos in its Rhinos of Nepal enclosure
There are about 2,500 such animals left in the wild - the overall population has slowly increased from as few as 200 at the beginning of the 20th Century
They have the most folded skin of the rhino species
Instead of using horns to fight, the males use long, sharp lower teeth
They are very good swimmers and spend up to 60% of the day wallowing
Source: World Wild Life Fund and ZSL