Whipsnade unveils endangered pygmy hippo baby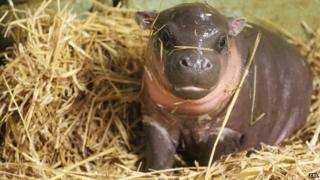 A miniature hippopotamus whose species is endangered has been born at ZSL Whipsnade Zoo.
The pygmy hippopotamus was born on Boxing Day but the Bedfordshire zoo has only just revealed the birth having "waited until mum and baby settled in".
The animals are listed as endangered and there are believed to be about 2,000 left in their native West Africa.
Senior keeper Steve White said the male calf is "happily waddling around and seems to love spending time in water".
---
Pygmy hippos are found in Liberia, Sierra Leone, Guinea and the Ivory Coast
Adults grow 70 to 80cm high (27.5 to 31.4in)
They are nocturnal and live alone or in pairs
They live near swamps and rivers to keep their skin wet
They eat grass, leaves, shoots and fallen fruits
Pygmy hippos are classified as endangered by the IUCN Red List of Threatened Species
Source: The Pygmy Hippo Foundation/ZSL
---
The calf is a "particularly welcome addition" because there is a shortage of males within the European Endangered Species Breeding Programme, according to the zoo.
It is the third time his 28-year-old mother Flora has produced a calf.
She has had "a difficult year", according to Mr White, because she has cancer, but her treatment did not affect her pregnancy.
Flora will now be retired from the breeding programme.