Car stripped of its parts in Luton by thieves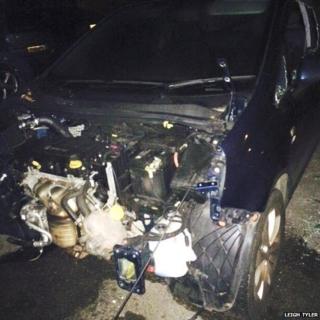 Thieves stripped a car of most of its parts in broad daylight while the owner was being treated in hospital.
Leigh Tyler left his Vauxhall Corsa in a parking area near his Luton home early on Friday when he went into hospital.
But by the afternoon it had been virtually dismantled after the radiator, bonnet, electrical parts, lights and other items were stolen.
"It was unbelievable, but luckily I'm insured," Mr Tyler said.
The thieves struck while Mr Tyler was being treated following an operation on his tonsils.
"My parents came to see me on Friday evening and said, 'we've got some bad news. Your car's been dismantled'.
"They'd got to my house at about 4.30pm that afternoon and a neighbour pointed it out to them," he said.
Mr Tyler said he was not sure exactly what the thieves had taken as he had only seen photographs of the damage.
"The front's gone, the air con, the radiator, the locking nuts, front bonnet, electrical parts, the headlights and goodness knows what else."
His girlfriend called Bedfordshire Police who told her it was "quite common" and she should contact the insurance company.
"I can't quite believe they didn't want to see the damage for themselves.
"Unbelievably, the tow company was able to drive my car away." Mr Tyler added.