Golden eagle Norman: Missing Bedfordshire bird evades capture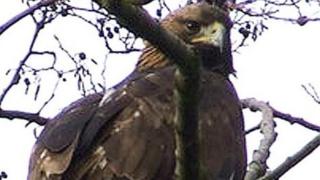 A golden eagle that escaped from a Bedfordshire falconer has yet to be captured, despite several sightings.
Norman was on loan to Allen Smith, 65, when he took flight from the falconer's workplace in Flitwick on 9 January.
He was located at Center Parcs, near Flitwick on Friday but had gone by the time Mr Smith arrived.
The handler said he then got within 50 yards of the bird, who stands roughly 3ft (0.9m) tall and boasts a 6ft (1.8m) wingspan, in Flitton but "he flew off".
After making his escape, the bird was spotted in Stewartby, about five miles from Flitwick, and Lidlington before being seen roosting in a tree at the holiday centre.
Mr Smith said he walked around the site on Saturday but did not see him.
The bird was then spotted in a Flitton garden at about 11:30 GMT on Sunday.
Mr Smith said: "I tried to lure him in but he didn't want to know. He flew off in the opposite direction, he likes it round here."
The handler said the bird had just been fed when he disappeared, but will eventually start to hunt as he becomes hungry.
"He will then hopefully be keen to come to me," he said.
"He's staying within a few mile radius of where he made his bid for freedom so he's staying close.
"We'll get him."