Milton Keynes taxi row: Suspended driver exposed rapist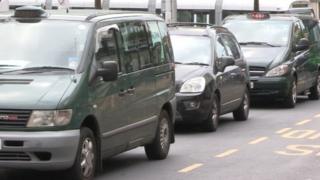 The man who exposed the rapist past of a taxi driver did so after his own licence had been suspended.
Milton Keynes Council revoked serial sex abuser Nadeem Kiani's licence following a Freedom of Information (FoI) request from Sabir Zia.
Mr Zia asked for the information after his licence was suspended due to an altercation with a passenger.
An appeal against his suspension was rejected at Milton Keynes Magistrates' Court on Tuesday.
Mr Zia's licence had been suspended for a month by Milton Keynes Council's licensing committee after it had been ruled he had been involved in an "altercation" with a passenger.
Following the decision he lodged an appeal and on 17 August 2014 submitted an FoI request to the council.
In it he asked for the written records of the committee hearing at which Kiani had been granted a licence.
He also requested the names of the councillors who made that decision and the councillor "who represented Mr Kiani".
Kiani had been granted a private hire taxi licence in 2011 despite having being convicted of the rape and sexual abuse of prostitutes in London in 1994.
Alerted by the FoI, council leader Peter Marland moved to revoke Kiani's licence.
Councillor Subhan Shafiq resigned from his role as Milton Keynes Mayor after it was found he had vouched for Kiani at the 2011 hearing.
Two more councillors, Stuart Burke and Gladstone McKenzie, resigned from the licensing committee. They had sat on a committee in 2012 that had lifted a suspension on Kiani's licence.
'Furious'
Mr Zia, who declined to comment, received a heavily redacted response to his FoI request on 25 September.
Chairman of Milton Keynes Taxi Association, Dennis Edwards, said he had helped write the FoI request as Mr Zia had felt it unfair he had been suspended for a "minor altercation" while a serial rapist was allowed to work.
Mr Edwards said: "They did this to Sabir and yet Nadeem Kiani was driving with rape convictions.
"I was furious. It was totally unfair. It was important to expose what had happened with Kiani and Subhan Shafiq."
At Tuesday's court hearing to decide the result of Mr Zia's appeal against his suspension, the magistrates said Mr Zia had entered into a dispute with a "single lady" travelling in his taxi.
The woman had accused him of taking a long route round to her destination and of charging too much. She also said Mr Zia had made a racist comment about her.
The court heard Milton Keynes Council's licensing committee had been "unable to find that racial comments had been made," but concluded "an altercation did take place" and suspended his licence for one month.
The magistrates said Mr Zia had appealed to the court against this decision, saying he did not use racist language and that he had been a "good driver for 33 years".
The court ruled he had breached his licence conditions and as such dismissed his appeal. Mr Zia was ordered to pay £300 costs.
Milton Keynes Council declined to comment.