Conor McColl's Clophill lake death ruled 'misadventure'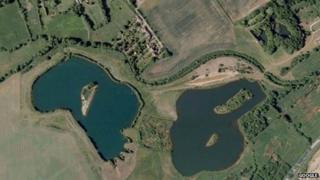 The death of a teenager who drowned in a lake "should serve as a lesson" for those embarking on this "highly dangerous pastime", a coroner has said.
Conor McColl, 16, from Clacton in Essex, disappeared at a former Fuller's earth quarry in Clophill, Bedfordshire on 24 July while swimming with friends.
Ampthill Coroner's Court heard that traces of cannabis in his blood did not contribute to his death.
Coroner Tom Osborne ruled Connor's death misadventure.
The court heard Conor and two friends were swimming towards an island in the middle of a lake.
Despite his friends' efforts, they were unable to save the teenager, the court was told.
The fire service rescued two teenage boys from the island on 24 July and police divers recovered Conor's body the following day.