Watford hospital staff placed patient on soiled chair pad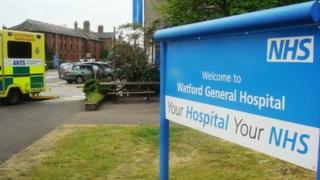 A 76-year-old man who had suffered a double stroke was left sitting on a soiled chair support which was messy from a previous patient.
Eric Weatherley was admitted to Watford General Hospital on 4 October.
A week later his daughter Lara visited him in an isolation ward as he was being put to bed and noticed he was sitting on a soiled pressure pad.
The hospital admitted failing to meet standards and said it is now monitoring hygiene processes more stringently.
The review of cleanliness and hygiene revealed staff had failed to follow their own rules had breached infection control policy.
Dirty gown
Professor Tracey Carter, chief nurse and director of infection control and prevention, said: "I would like to reiterate our sincerest apologies to Mr Weatherly and his family for the care he received at Watford Hospital last October.
"We clearly did not meet the high standards I would expect.
"We have investigated the concerns raised and I have shared our findings with Mr Weatherly and his family.
"We have also put in place an action plan to address the issues raised to help prevent them happening again."
The professor carried out the inquiry into Mr Weatherley's experience and said staff have also been told to ensure patients are clean when they are discharged and are dressed in their own clothes.
This was prompted by the fact Mr Weatherly was wearing a dirty hospital gown when he was discharged.