Faruk Ali: Peer critical of PCs' 'callous, racist attitude'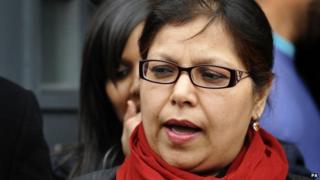 A peer has criticised the "callous, racist attitude" of two police officers to a "vulnerable and disabled man".
Baroness Uddin made the comments in the House of Lords on the case of Faruk Ali, who has autism.
Bedfordshire PCs Christopher Thomas and Christopher Pitts were found not guilty of misconduct in public office after chasing Mr Ali in a police car.
The pair are currently subject to an Independent Police Complaints Commission (IPCC) investigation.
Labour peer Baroness Uddin described the treatment of 33-year-old Mr Ali, who has a mental age of five, as "outrageous victimisation".
She said people with autism faced "extraordinary difficulties" in obtaining justice and called for them to be treated with respect by statutory institutions.
PCs Thomas, 33, of Welwyn Garden City, and Pitts, 39, from Bedford, were cleared of misconduct in public office and perverting the course of justice at Aylesbury Crown Court in December.
PC Thomas was also cleared of racially aggravated assault.
Their trial heard the policemen pursued Mr Ali down a street near his home in Luton on 20 February 2014.
'Camera footage'
He had been putting out neighbours bins at the time.
During the trial a video from an in-car camera was played showing the officers laughing as they followed Mr Ali.
Defence teams for the officers said the men had chased Mr Ali because they were concerned about his demeanour and because he was running.
Baroness Uddin said: "Although the jury did not have sufficient evidence to convict the two officers, video and audio footage does remain of the incident which demonstrates the callous, racist attitude of the officers to a very vulnerable and disabled man."
Justice minister Lord Faulks said it would be "inappropriate" for the government to comment as the two officers had been cleared.