Shot Luton man Atif Ali 'proves doctors wrong'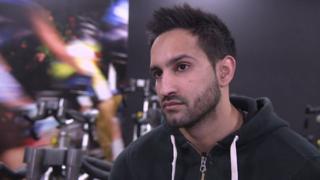 An accountant who was told he may never walk again after being shot in the leg has told the BBC how he is proving doctors wrong.
Atif Ali, 29, was shot at close range in Leicester Road, Luton, while driving to work nearly two years ago.
He is now able to walk again and is planning a fundraising cycle ride for a charity which helps build orphanages.
Two men were jailed for life last August after being convicted of conspiracy to murder Mr Ali.
On 20 May 2013, Mr Ali was driving a silver Audi that was hit by another car from behind.
When he got out to inspect the damage, he was shot in the left thigh.
He needed a seven-hour operation at Addenbrooke's Hospital in Cambridge to save his leg and has had about nine further operations.
Mr Ali is in constant pain and still does not know if he will be able to keep his leg in the future.
Last year Shahzad Mahroof, 28, of Luton, and Bernard Pillay 41, from Uxbridge, were both sentenced to life in prison for their part in the attack.
The court heard Mahroof ordered the shooting because of a personal grudge against Mr Ali over a love triangle.
It was claimed he wanted to pursue a relationship with a young woman who was engaged to Mr Ali.
'No guarantee'
Mr Ali described his recovery as "the most difficult period of his life" during which he had "very, very, low" times.
"I did hear from doctors on several occasions that there was no guarantee I'd be able to walk again," he said.
"If you maintain a strong head you can get through it, I'm a positive person and made sure I stayed that way.
"To those who questioned if I'd recover I say 'look at me now'."
He set up the Mercy Worldwide Trust charity, which is organising a 12,000 mile round-the-world cycle ride to raise funds to build orphanages in the Middle East and Asia, while he was at university.
Mr Ali is planning to take part in the Luton to London leg on 28 February and wants the community to get involved.
"There are millions of people out there in a more unfortunate position than me," he said.
"You don't normally get the chance to have a hand in building something like this - people will have the opportunity to say 'I helped pay for a brick in that orphanage'."