Mia Tui bag company settles trademark row with TUI AG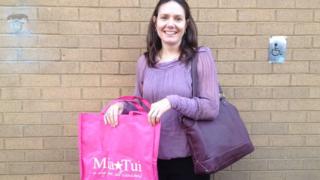 A handbag designer from Milton Keynes can keep her company name after a U-turn by a multinational travel firm.
Charlotte Jamme set up Mia Tui, which is Vietnamese for "my bags", in 2010.
German company TUI AG, which owns UK subsidiary Thomson Holidays, tried to ban her from using the name because they said it was too similar to theirs.
But the company has now dropped its opposition to Mrs Jamme, 43, registering the name and she has successfully filed her trademark.
The company originally said it took action due to the "likelihood of confusion" between the names.
Vietnam factory
Mrs Jamme, a mother-of-two, said she reached an agreement with the travel giant after a solicitor, who heard her story on BBC Three Counties Radio, took on her case.
"I am very pleased they have seen that I am no threat to them," said Mrs Jamme.
"There is a big difference between selling bags and holidays.
"We really rely on our brand. Being a small business, we could not have afforded to rebrand.
Mrs Jamme, who used to live in Vietnam, estimates she has sold about 10,000 bags. She said her business employed two people in Milton Keynes and her bags are made in Vietnam.
"The lady there who owns the small factory is like me, she has invested in her own factory and she is very pleased about this," said Mrs Jamme.
The Mia Tui logo was trademarked in 2010 but a lawyer recommended she also protected the text.
Solicitors for TUI asked her in July to "voluntarily remove" the name, which she refused to do.
The German company had officially opposed the registration of the Mia Tui trademark at the UK Intellectual Property Office after an "attempt to reach an amicable solution failed".
A TUI AG spokesman said: "We have dropped our claims against Mia Tui bags for using the TUI name."
Mark Armitage, consultant and trade mark attorney at Withers & Rogers, said: "The objections raised by TUI AG were probably dropped because it was obvious that the two were operating in very different markets and the holiday firm may not have been able to provide evidence of use for conflicting goods.
"This is a classic example of a small firm sticking to its guns, protecting its brand and claiming victory against a much larger corporate organisation."
Trademarks
Trademarks can be product names, logos or jingles
Registering them with the government's Intellectual Property Office makes it easier to take legal action against anyone who steals or copies it
A trademark must be unique and can include words, sounds, logos, colours or a combination of any of these
They cannot be offensive, misleading, a three-dimensional shape associated with your trademark or be too common and non-distinctive
Source: Intellectual Property Office