Luton MP Gavin Shuker tells EDL 'stop targeting town'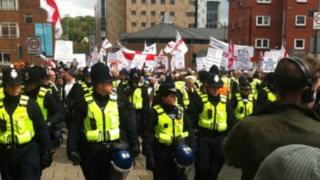 An MP has called for the English Defence League (EDL) to stop targeting Luton after it was revealed more than £20,000 was spent policing a protest that attracted 12 demonstrators.
The EDL planned the New Year's Eve protest in response to an Islamic conference in the town.
Gavin Shuker told the BBC it was "unacceptable" taxpayers had to pay for "12 idiots shouting in a car park".
The EDL said the cost would be less if it was allowed to "protest peacefully".
The group, founded in Luton, had said it was protesting against what it believed were hate preachers during a conference organised by The Luton Islamic Centre, which said its aim was to "refute the ISIS narrative".
Bedfordshire Police said policing the event involved 104 officers, most from neighbouring forces, and cost it an extra £23,111 compared to an average day's policing in Luton.
The force said it did not know how many protesters would turn up and it had to ensure public safety.
'Cost reclaiming'
Public order laws were used to restrict where the protesters were allowed to gather and the dozen supporters were escorted by officers to a car park in Crawley Road. There was no trouble.
Mr Shuker, Labour MP for Luton South, said the EDL "did not have a right to continually target" Bedfordshire Police.
"There is certainly a question about cost reclaiming here," he said.
"It puts Bedfordshire Police in a very difficult position. They are facing major budget cuts, but they are having to spend their money not on what people really care about; [instead] we're standing around in a car park watching 12 idiots shouting.
"The far right will always find their expressions but I don't want them to find it here in this town."
An EDL spokesman said: "The cost of the policing etc would not be as much as it is if we were allowed to do what we set out to do and that is to protest peacefully.
"Every time we arrange to highlight issues we have United Against Facism (UAF) and their ilk countering us.... it is more often these people who cause the problems but the media prefer to make it look like the EDL at fault."
The EDL in Luton
The town has seen a number of EDL demonstrations in recent years which usually attract a counter-protest on the same day
In February 2011, about 1,500 EDL supporters and 1,000 UAF protesters gathered in the town - officers from 27 forces were brought in, costing £800,000
A May 2012 event saw about 2,000 demonstrators from both the English Defence League (EDL) and We Are Luton (WAL), marshalled by 1,500 police brought into Luton from 22 UK forces
About 350 protesters attended a November 2014 demonstration
Source: BBC