Alan Turing Enigma papers found at Bletchley Park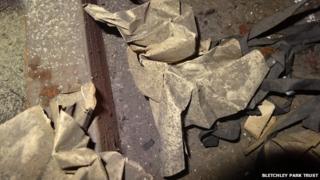 Top-secret documents that used the work of Alan Turing to break the German Enigma code have been discovered lining the walls of a World War Two codebreaking hut.
The papers were found stuffed into the ceilings and holes of the walls, during renovations of Bletchley Park.
They include the only known examples of "Banbury sheets", used to speed up the decryption of Nazi messages.
Parts of an Atlas and a fashion article were also found in the roof of Hut 6.
Bletchley Park's director of learning and collections, Victoria Worpole, said it was "quite rare" to find any new paperwork.
She said: "It is quite interesting to think these were actual handwritten pieces of codebreaking, workings out."
Some of the papers, believed to have been used to insulate the hut walls, have been sent off to GCHQ to be analysed.
"We are unveiling a mystery," said Mrs Worpole.
The artefacts will form part of an exhibition to take place in Hut 12 called The Restoration of Bletchley Park.
Other items found during the restoration include a fragment of a 1940s teapot, bricks from Block F which was demolished in 1987 and a time capsule left inside a door, in Hut 11A.
Alan Turing devised the "Banburisms" technique in 1940, to infer information about the probable daily setting on the naval Enigma machine.
It involved punching holes in long sheets of paper to represent different ciphers.
The renovation of the huts was part of an £8m revamp of Bletchley Park, to restore the wartime appearance of the site's historic blocks and huts, which had fallen into dereliction and disrepair.
The work of Mr Turing and others at Bletchley Park is widely acknowledged to have shortened the war by as much as two years.
Bletchley's role in cracking German codes was kept secret until the 1970s.