Alan Turing's family gathers at Bletchley Park for exhibition appeal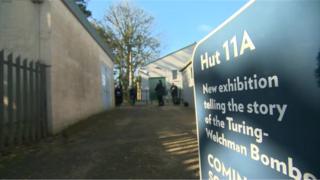 More than 20 members of World War Two codebreaker Alan Turing's family have gathered at Bletchley Park to launch a £250,000 appeal to fund an exhibition about his brainchild.
His nephew Sir John Dermot Turing, said a display about the Bombe machine in Hut 11A was planned at the Buckinghamshire museum.
The devices decrypted military messages generated by the German Enigma machine.
He said telling the story of the Bombe was "a really exciting opportunity".
Bletchley Park was the wartime home of the Government Code and Cypher School, where the electro-mechanical Bombe, developed by a team including mathematician Turing, could test different cypher settings faster than a human.
Some historians believe work done at the site may have shortened the war by up to two years.
'Star piece'
After £750,000 was raised towards a £1m target, huts 11 and 11A, which housed the first of the Bombes, have already been restored and recreated as wartime buildings, with Hut 11 telling the story of the female machine operators.
Sir John, 53, a museum trustee, explained the next step was to raise the shortfall and fill 11A by June this year, with an interactive exhibition telling the story of the devices' development.
"I think our visitors find the live Bombe demonstrations are the star piece of a visit to Bletchley Park, so to be able to have something that explains how the Enigma worked and how the Bombe helped find the daily settings will be a really exciting opportunity for us," he said.
About half of the family members at Bletchley for the launch had not visited the site before and Sir John said the gathering was "pretty remarkable".
"It was tremendously exciting for us as a family to look around Bletchley Park and absorb the atmosphere in which our famous relative achieved so much for the nation and for the future of technology," he said.
Alan Turing's great niece Rachel Barnes, 51, who had not been there before, said she had been "absolutely delighted" to attend.
"I feel extremely emotional. Bletchley Park is an incredible place," she said.
The Bombe machine at Bletchley Park
Enabled cryptographers to decode more than 3,000 German messages in a day
Operated by the Women's Royal Naval Service (WRNS)
Originally housed at Bletchley Park, by the end of the war there were about 200 in various locations
A replica, which took 10 years and about 60 volunteers to rebuild piece-by-piece, opened as a visitor attraction in 2007
The story of its development is depicted in the Oscar-nominated film, The Imitation Game
Source: Bletchley Park