Roman burial casket finds go on display in Aylesbury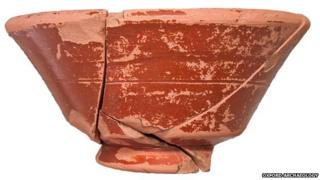 The contents of a Roman burial casket found in a Buckinghamshire field are to go on display.
The items, including Samian ware from Gaul and an intaglio (engraved gem), were found by metal detector enthusiast John Steele in October 2014 in Whitchurch.
They had been buried in a wooden casket with the cremated remains of a member of a high status Roman family.
They will go on show at Buckinghamshire County Museum in Aylesbury.
After the find, Buckinghamshire County Council's archaeological officer Eliza Alqassar was alerted and Oxford Archaeology was commissioned to excavate the site.
Ms Alqassar said: "The significance of the find soon became apparent when bronze and iron objects, glassware and high-status Roman pottery all started to be uncovered together.
"It looked like a Roman burial assemblage so we had to make sure it was properly recorded and carefully excavated.
"The beautiful bronze flagon handle with its decorated scene was one of the last items to be lifted; at that point we knew this was a special discovery."
She said the these type of wooden casket burials are particularly rare, with the last one found in Buckinghamshire 15 years ago.
The excavation revealed a late 2nd Century AD Roman wooden casket burial with grave goods including two Samian ware cups, two Samian ware dishes, a pottery flagon or dish, two glass vessels, a bronze jug with decorated handle, a bronze patera (dish), an iron lamp, two unidentified lead objects and an urned cremation burial.
Also found was a red jasper intaglio ring depicting the Roman goddess Minerva and the god Mercury was found among the remains, along with hobnails from shoes.
The remains of the wooden casket were identified as an outline of iron nails and organic deposits within the burial pit.