Five men arrested in Thames Valley child sex probe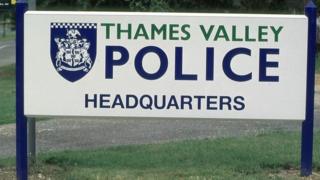 Five men have been arrested in relation to sex offences on a child, two days after eight other people were detained.
Thames Valley Police said three men from Wycombe, aged 17, 19 and 20, an 18-year-old from Aylesbury and an 18-year-old from Slough were arrested.
They are suspected of causing or inciting sexual activity with a child.
"The allegations revolve around a single victim, and we are doing all that we can to keep them safe," said Det Ch Insp Kelly Glister.
"These further arrests are a continuation of those made on Tuesday.
"The arrest phase has, for now, concluded, allowing us to fully review the evidence and continue the investigation to a satisfactory conclusion."
The men from Wycombe and Aylesbury are also suspected of causing or inciting indecent images of children.
Eight men, from Hampshire, London, Maidenhead and High Wycombe, were arrested on Tuesday.