Need for Speed video game police car on school run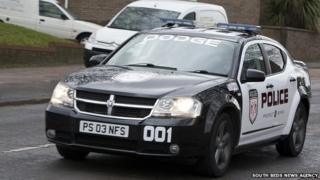 A woman has been turning heads on the school run by driving her children in a replica American police car.
Rachel Sims, from Hemel Hempstead in Hertfordshire, bought the car which was built to promote the PlayStation video game Need for Speed.
It has the words "Dodge City Police", "Emergency Response" and "911" on it.
Ms Sims said although "one man fell over a bin" when he saw it, it was clearly not a UK police car and an officer told her it was fine to drive.
The black and white Avenger car is fitted with flashing yellow lights, but has no siren. Its registration number PS 03 NFS stands for PlayStation Need For Speed.
"People stop in the street and stare when we go past. One old man was looking at it and fell over a bin," Ms Sims said.
The 38-year-old drives her four children, aged 15, 12, eight and three, to school and back each day, but hopes to hire out the eye-catching vehicle for proms and weddings.
"I have been stopped by the police, but they checked and told me there was nothing wrong with it.
"It can't really be mistaken for a British police car. It looks nothing like one. The colours are different and the markings aren't luminous," Ms Sims said.
"There is no way you could say I was impersonating a police officer. I wouldn't want to drive it in the US though."