Cancer Hair Care break-in appeal raises £4k in two days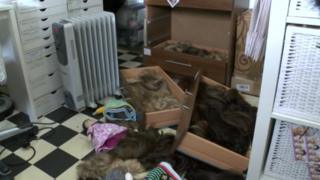 A cancer charity targeted by thieves in a "shocking" burglary has managed to raise £4,000 within two days thanks to online donations.
Cancer Hair Care in Stevenage supplies wigs and hair treatment to patients who have undergone chemotherapy.
Thieves stole "equipment and funds" worth £5,000 and vandalised the premises overnight on 15 February, the charity said.
In response, it set up its own "beat the burglars" campaign on social media.
Jasmin Julia Gupta, who founded Cancer Hair Care, said the money would be used to replace the stolen items, which included hair clippers, eyebrow makeup and money from collection tins.
A Three Counties Radio listener heard reports of the break-in and said he would "top up the difference" to make sure the charity could continue to run.
The man, who wants to remain anonymous, said he wanted to repay the charity's kindness for helping so many women.
One woman, who had used the service, donated £100 to the charity and posted a message saying: "I was left speechless when I saw this... how low can people stoop?".
Another anonymous donor pledged £200 and wrote: "My beautiful niece lost her battle to cancer 18 months at the age of 23 years old.
"I saw the joy and confidence that a real hair wig gave her, it was priceless."
Ms Gupta said the level of support since the burglary had been "fantastic".
"We've made a list and said, 'we need these things', so that when our lovely patients come in, we're not robbing them of their services, because we won't let anything stop us".