Woman's poo bag offer to Hemel Hempstead dog owners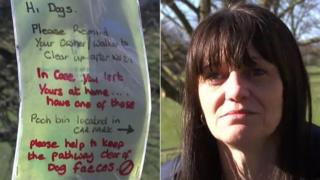 A pet owner who was fed up with dog mess being left on pavements offered free poo bags to tackle the problem.
Lesley Marshall, from Butts End, Hemel Hempstead, said she used to find dog faeces outside her house near Spring Fields on a daily basis.
She also put up posters addressed to dogs, asking them to remind owners to clear up "number twos".
Mrs Marshall said the problem "seemed to have disappeared" since she took the action at the end of last year.
"Hopefully people are getting the message," she said. "You do see people reading [the sign] and having a little chuckle as they go by."
Mrs Marshall, a dog owner herself, said she was "topping up" the supply of free bags by "about four" a week.
"It's not too many, but they are being used, and that's good," she told BBC Three Counties Radio.
She won praise for her actions from Facebook users, who posted messages saying "Good on her".
Another user wrote: "Why do people think it's ok to leave their dogs poop on the pavement and grass! It's part of the responsibility of having a dog."