Bedford Hospital apologises over bereaved family's treatment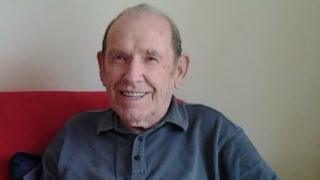 A bereaved family, told it could be too late to see their dead relative as "his body may already be in a bag", have had an apology from the hospital involved.
Edward McCavery, 82, died at Bedford Hospital in October after suffering with pneumonia and renal failure.
His family said his body was also not prepared for them to view and when they saw him he looked "something out of a horror movie".
The hospital said it "apologised unreservedly for the distress" caused.
Mr McCavery was admitted to the Reginald Hart ward on 1 October and died nine days later.
His daughter, Donna Rogers, said the family were told they could see him in the hospital mortuary, but the attendant had no record of Mr McCavery and so they were sent to the ward.
But when they arrived a nurse recognised them and told Ms Rogers: "You may be too late; he may already be in the bag".
They were then taken to the ward and were confronted with his unprepared body.
Ms Rogers said: "Instead of our father lying peacefully in bed, he was sat up, slumped to one side, his face was all contorted, his dentures were hanging out of his mouth and his eyes were open.
"It was literally like something out of a horror movie."
'No excuse'
Director of nursing and patient services, Nina Fraser, said she "could not make any excuse" for how the family were received and what happened was "unacceptable."
She said no side rooms had been available at the time of Mr McCavery's death, and the ward was having some renovation work done but he "should have been properly prepared" for the family to pay their last respects.
"More care should have been taken to ensure that your father and your entire family was treated with sensitivity, kindness, compassion and empathy," she said in a letter.
"[We] apologise unreservedly for the distress caused."