Student arrested when stolen iPhone rang in his shoe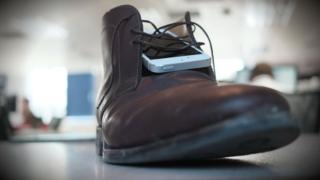 A student who denied stealing a mobile phone was exposed as a thief by an off-duty policeman when the device started ringing in his shoe.
Harold Penn-Timity, 25, of Hastings Street, Luton, took the iPhone 5 from a student in a halls of residence at the University of Bedfordshire.
He denied responsibility until the victim asked a friend to call his mobile in front of the policeman.
Penn-Timity pleaded guilty to theft and was given a 12-month community order.
'Phone found'
Luton Crown Court heard the defendant was confronted by a group of young men over the theft of the phone in Fitzroy Court, on 10 November.
A passing off-duty policeman saw the men surrounding him and went to investigate.
Douglas Page, prosecuting, told the court one of the group asked the officer to "look in [the defendant's] back pocket".
But Penn-Timity insisted, "I haven't got it".
When the victim asked another man to call his number, the phone could be heard ringing from Penn-Timity's footwear and he was promptly arrested.
Penn-Timity claimed he found the phone and had been frightened to hand it in. He said he was worried he would be accused of stealing and thrown out of the university, where he was studying media.
The court heard he said: "I didn't take it on purpose. I was going to give it back."
Judge Peter Wright ordered him to perform 80 hours of unpaid work.