St Francis Boys' Home sex abuse inquiry: Second man arrested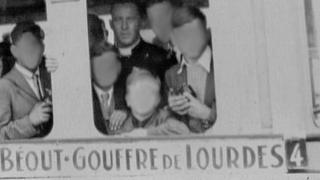 A second man has been arrested in connection with an inquiry into alleged child abuse at a Catholic boys' home in Bedfordshire.
The 72-year-old man from Bedford was arrested on suspicion of sexually assaulting four children at St Francis Boy's Home, Shefford.
A man, 79, of Mundford, Norfolk, has been re-arrested on suspicion of six sexual and 14 physical assaults.
The two men have been released on police bail until April.
Bedfordshire Police also announced that as part of the inquiry a 68-year-old man had been voluntarily interviewed under caution in relation to alleged sexual assault.
A 78-year-old woman from Shefford was interviewed under caution in relation to alleged sexual assault.
She was later released and told no further action would be taken.
A police spokesman said: "Further potential suspects have been identified and will be interviewed in due course.
"At the conclusion of the interviews a report will be submitted to the Crown Prosecution Service".
The victims have been updated about developments over the weekend.
In September Bedfordshire Police brought in retired detective chief inspector Mark Ross to head the investigation.
The following month Mr Ross told the BBC there were 80 "potential victims".
The BBC has talked to former residents of the home who allege they were physically and/or sexually abused at the orphanage, which closed in 1974, and was run by the Roman Catholic Diocese of Northampton.
Many have said they were abused by priest Father John Ryan, who ran the home in the 1960s and died in 2008.
Others say they were abused by Father Wilfred Johnson, who ran the home between 1945 and 1954 and died in 1994.
The diocese said: "The Bishop is deeply troubled by the allegations and his thoughts and prayers are with anyone who has suffered abuse in any circumstances.
"The Diocese continues to actively support the Police investigation and is committed to transparency in respect of all allegations of abuse."