Hoddesdon A10 crash kills lorry driver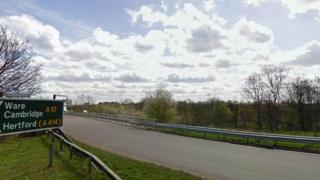 A 37-year-old Hungarian lorry driver has died in a crash in Hertfordshire.
The Sainsbury's vehicle he was driving caught fire after a crash involving a blue Vauxhall Astra Estate on the eastbound carriageway of the A10 Dinant Link Road at Hoddesdon just after 18:30 GMT on Tuesday, police said.
The road between the A10 and the A414 remains closed for repairs.
Hertfordshire Police said safety checks must be carried out on a bridge that was struck.
Its concrete support was hit by the lorry when it lost control, a spokesman said.
Officers have asked for anyone who saw the crash, or events leading up to it, to contact them.