Concerns over missing Luton father and son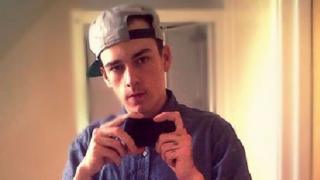 A young father has gone missing from Luton with his eight-month-old son, police have said.
Bedfordshire Police said Kieran Carroll, 22, was reported missing in Luton earlier.
His son Louis is believed to be wearing a blue cardigan with a picture of a ship on it.
Mr Caroll was last seen at about 14:00 GMT on the CCTV of a Luton hotel. Det Insp Sean Quinn said: "We are becoming increasingly concerned."
Det Insp Quinn added: "This type of disappearance is very out of character for Kieran.
"We want Kieran to know that he is not in any trouble, and we just want him to contact us so that we can be reassured that he and Louis are safe.
"If you have seen Kieran, or have any information about where he and Louis may be, please contact us immediately."
Kieran is described as a white man of medium build, with short brown hair.
He is believed to be wearing black trousers, a grey hooded top, and a dark woolly hat with a bobble on it. He has tattoos on his arms.
Anyone with information is asked to contact Bedfordshire Police.