Yarl's Wood: Women in 'small peaceful protest'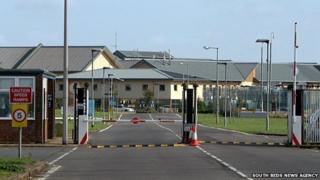 About a dozen female detainees at Yarl's Wood detention centre in Bedfordshire were involved in a "small" protest on Tuesday night.
Operators Serco said it was a "peaceful protest" and it was talking to the women involved.
Two members of staff had earlier been suspended following allegations of abuse.
Undercover filming by Channel 4 News had shown staff referring to inmates as "animals", "beasties" and "bitches".
The facility houses up to 400 women under threat of deportation.
Speaking in Parliament on Tuesday, Home Office Minister Karen Bradley told MPs Serco "immediately suspended" one member of staff and then another after seeing the footage.
"The company has also commissioned an independent review of its culture and staffing at Yarl's Wood," she said.
Shadow Home Secretary Yvette Cooper has called for an independent inquiry into conditions at the centre.