Runaway coatimundi recaptured in Buckinghamshire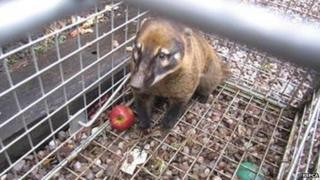 An animal mistaken for a "small bear" has been captured about 11 miles (18km) from home after two months on the run.
The coatimundi, which is native to the Americas, was being kept as a pet and escaped in January from the Fawley area of Buckinghamshire.
The RSPCA said it was alerted when the animal was spotted in a back garden in Marlow in February.
It had been "giving rescuers the slip" but an officer caught it by "laying a humane trap", a spokesman said.
'On the loose'
Animal collection officer Dennis Lovell said the organisation had received "a flurry of calls regarding a small bearlike animal" which had been seen in and around the Marlow area.
"It was eventually established it was actually a coatimundi that was on the loose after escaping," he said.
"[It] seemed to be favouring three gardens by the river to visit for food so we laid a humane trap with pieces of fresh fruit at one of the properties.
"As soon as he was in there I was able to go down, collect him and return him to his owners."
Anyone considering getting a coatimundi as a pet should thoroughly research the species and ensure they could meet all its welfare needs, the RSPCA has said.
Coatimundis
Native to South, Central and parts of North America and are commonly found in tropical forests, living primarily on a diet of insects
Not adapted to living in temperate English habitats and as a result may struggle to survive in the wild, particularly during periods of below-zero temperatures
Have strong front claws and will defend themselves if they feel threatened but a Dangerous Wild Animals Act licence is not needed to keep a one as a pet
Source: RSPCA