Luton father missing with baby son appears to make contact with police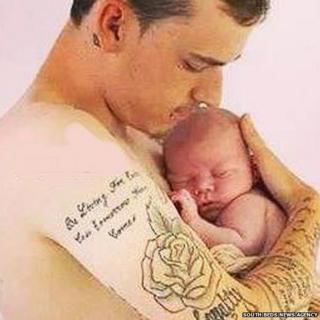 Police investigating the disappearance of a young father and his eight-month-old son from Luton appear to have been contacted by the missing man.
Kieran Carroll, 22, was last seen at about 14:00 GMT on Tuesday with Louis on the CCTV of a Luton hotel.
A man using a Facebook account in Mr Carroll's name sent a message to police earlier saying he was fine and they should "go look for some killers".
An officer replied: "All we need to do is see you and Louis in person."
When police first appealed for people to look out for the pair they said the baby was believed to be wearing a blue cardigan with a picture of a ship on it. They now think Mr Carroll no longer has his son's pram with him.
'Out of character'
Earlier, police renewed their appeal for Mr Carroll to come forward.
Det Insp Quinn, from Bedfordshire Police, said: "This type of disappearance is very out of character for Kieran and we are becoming increasingly concerned.
"We just want Kieran to contact us to let us know that him and Louis are safe."
A man has since been in touch with officers using the name Kieran Carroll, on social networking site Facebook.
He wrote: "I'm fine so is my child go look for some killers not a man and his child."
Det Insp Quinn replied to the post, saying: "We are pleased to hear that you and Louis are safe.
"It is not the role of the police to decide on child custody matters.
"All we need to do is see you and Louis in person to check you are safe and well."
A spokesman for the force said they were investigating the Facebook post.
Anyone with information is asked to contact Bedfordshire Police.