'Callous' Harrow Court firefighter death flats hoax probed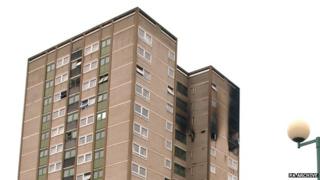 A "callous" hoax call which sent fire crews to a block of flats where two firefighters died ten years ago is being probed by police.
Four crews were sent to Harrow Court in Stevenage on Wednesday, after a caller claimed people were trapped in a blaze.
The fire service said it was suspicious of the report but "obliged" to respond.
Firefighters Michael Millar, 26, and Jeff Wornham, 28, died in February 2005 trying to rescue a woman from a flat fire in which she was also killed.
Hertfordshire fire control received the call reporting a flat fire at about 20:15 GMT on 4 March.
A spokesman said hoax diverted valuable resources away from dealing with genuine emergencies.
"In this case, a hoax call sending firefighters to Harrow Court, the scene of the tragic fire that killed one resident and two firefighters ten years ago, is also extremely callous," he said.
Hertfordshire Constabulary, which also attended the scene, said officers believed the call came from a phone box near Harrow Court.
They asked for witnesses to contact them.