Slip End armed thief tackled with plastic cricket bat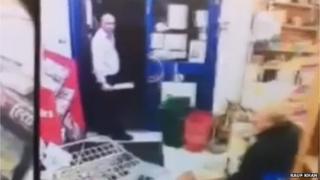 A shopkeeper used a plastic cricket bat to tackle a knife-wielding thief who was trying to rob his store.
Rauf Khan was not prepared to stand by and watch two men steal cigarettes from his shop in Markyate Road, Slip End in Bedfordshire.
The men, who entered the store at about 18:00 GMT on Sunday, had made threats with a knife but left empty handed.
Bedfordshire Police believe the pair could have been involved in a series of knife-point robberies.
Mr Khan said: "I don't know what happened. Something just came into my head.
"The bat was the nearest thing. I said I will hit you with this and they ran away."
He added: "I used to play cricket when I was younger. I know how to use a bat, that is no problem."
Police said about an hour after the attempted robbery in Slip End there was another at a shop in Wellington Street, Luton.
Two men with a knife also threatened shop workers and stole money, alcohol and cigarettes from stores on the High Street in Kensworth, Albert Road, Luton and High Street South in Dunstable over the same weekend.
The men who robbed the Dunstable store were described as white, with one believed to be about 6ft tall, aged 30-40 years-old, wearing a beige hooded jacket, blue tracksuit bottoms, trainers and gloves, with a scarf over his lower face.
The second man was described as being 5ft 8ins to 5ft 10ins tall and wearing a blue Nike hoodie with blue tracksuit bottoms and trainers.
Det Insp Jackie Dadd said: "At this stage we are considering the possibility these robberies could be linked."