Hospital baby death prompts changes in emergency procedure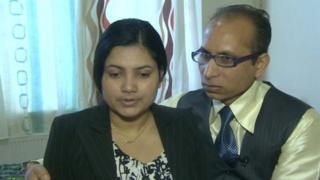 Babies admitted in emergencies at a Bedfordshire hospital will have their hearts checked within 30 minutes of arrival following a still-born death.
Aanha Beg's parents believe a delay in treatment at Luton and Dunstable Hospital led to her death.
After an inquiry, the hospital admitted it failed to check for a heartbeat in a reasonable time and changed procedures.
Parents Mousomi Shabnam, 30, and Mohammed Amin, 44, from Luton, called the report "false and dishonest".
The couple arrived at the hospital on 9 November and told staff their baby had stopped moving but, they say, there was no urgency in the hospital's response.
"We waited two-and-a-half hours for the heart rate to be checked."
The hospital said the delay was "one hour" but admit there was a failure of the midwife to check the heart rate "within a reasonable time".
She was said to be dealing with another woman whose baby's heartbeat also could not be detected.
The couple believe their baby would be alive today if the hospital had acted sooner.
They are unsatisfied with the report, dispute the hospital's version of events and have called for a fresh inquiry into the episode.
"The report is false and dishonest. We want an independent investigation so that the whole truth can come out," they said.
The couple maintain they should not have been sent home after Ms Shabnam complained of severe pain and bleeding.
The hospital said she was discharged in line with trust guidelines.
Fetal heat rates are now checked "as soon as practicably possible and this should be within 15-30 minutes of arrival".
The hospital said "learning from this case will be incorporated into teaching and training" for all midwifery staff.
The hospital was unavailable for interview but said it had nothing further to add to the information in the report.