Car vandalism spree 'linked to Habib Ullah verdict'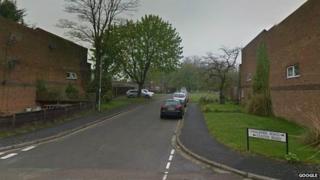 Anger at a recent inquest verdict is thought to have prompted a spate of vandal attacks on more than 50 cars over two nights.
Habib Ullah, 39, also known as 'Paps', died after being stopped and searched in 2008. An inquest recorded a verdict of death by misadventure on Monday.
NJNP, believed to stand for No Justice No Peace, was sprayed on 53 vehicles in High Wycombe.
Mr Ullah's family has condemned the damage.
Thames Valley Police said car windows were also smashed.
Four men aged 26, 27, 19 and 18, from High Wycombe, were arrested on suspicion of criminal damage after 23 attacks in several roads on Tuesday.
They were released on bail but 30 more cars, including a police vehicle, were defaced in roads on the Cressex, Booker and Sands estates between 19:00 and 22:00 GMT on Wednesday,
Police said there had been no arrests in connection with the latest action but it has stepped up patrols in the area.
A spokesman said: "The motivation for this damage is believed to be related to the recent outcome of the inquest into the death of Habib Ullah."
'Completely condemn'
Saqib Deshmukh, from the Justice 4 Paps campaign, said: "We appreciate things are tense after the verdict but there is no way we can tolerate this sort of action.
"We condemn these acts completely."
Mr Ullah, from Slough in Berkshire, collapsed during a routine stop and search in a car park at High Wycombe in July 2008.
Following the inquest verdict, a police misconduct hearing is to be held.
Thames Valley Police said there was a case of "gross misconduct" to answer.