Councillor Doug McMurdo to compensate teenagers over drunken punch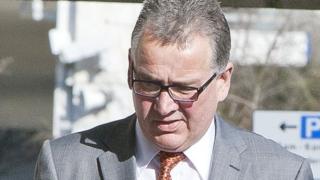 A Bedford borough councillor who drunkenly punched two teenagers has been ordered to pay compensation and do 200 hours' unpaid work.
Doug McMurdo, 53, and his lorry driver friend Alan Jones, 51, had downed 13 pints between them after watching rugby in Sharnbrook village where they lived.
They confronted a group of eight youngsters near the village hall and a fight broke out.
The pair were found guilty of assault at Milton Keynes Magistrates' Court.
Independent councillor McMurdo, of Normans Road, was found guilty of two counts of assault and Jones, of Townsend Close, one count of assault.
Both were convicted of using threatening language.
They were given 12-month community orders but McMurdo must carry out 200 hours' unpaid work.
Served community
He must also pay £1,322.50 made up of £50 compensation to each of the two boys, a £60 victim surcharge and £1,162.50 costs.
Jones must carry out 100 hours' unpaid work and pay £1,252.50 - £30 to the boy he assaulted, £60 victim surcharge and £1,162.50 costs.
Prosecutor Tristan Driscoll described the incident on 22 February last year as something from Simon Pegg's Hot Fuzz comedy film where the older community try to murder young newcomers who are threatening their way of life.
Chairman of the bench Neil Arnold said McMurdo had been in the first boy's face.
When the teenager pushed him away he punched him in the eye with a clenched fist, causing bruising.
Jones 'bear-hugged' the first boy and dragged him across the ground by his waist after having pushed him.
McMurdo, a borough councillor since 2009, said he acted in self-defence and told the court: "I felt very intimidated."
His solicitor said he was of "exemplary character and had served his community for 25 years" as a councillor and school governor.