Jamie Skinner loses Bedford Town FC injuries claim case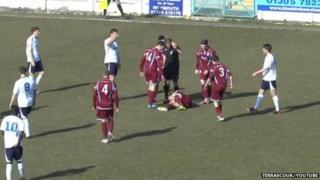 A player has lost his claim for damages after he was injured in a game against Bedford Town Football Club.
Weymouth FC forward, Jamie Skinner, sued the Eagles after a tackle from Bedford's Nick Beasant left him with serious leg injuries, in April 2013.
The club faced a £250,000 bill for legal costs and damages, if judges had ruled in Skinner's favour.
But in a judgement handed down from Exeter County Court, the claim was rejected.
The club was recently put up for sale by chairman David Howell and the board of directors still intends to stand down at the end of the season.
In a statement, the club said it was "pleased and greatly relieved to announce that, following a two-day trial in Exeter, the judge has dismissed Mr Jamie Skinner's player-to-player damages claim against Bedford Town FC."
Bedford, an Evo-Stik League Southern Division One Central club, is insured for £100,000. If they had lost the case, they would have had to find an extra £150,000.